LAKE PLACID, NEW YORK
The Lake Placid Region is famous for hosting the 1932 and 1980 Winter Olympics. Lake Placid has also been host for a variety of world class events including the Ironman Triathalon, World Cup bobsled and luge, international figure skating, Empire State Games and the "I Love NY" Horse Shows. The Lake Placid region offers visitors a rich variety of historic, artistic and cultural attractions. Lake Placid's Olympic attractions include famous Whiteface Mountain, boasting the greatest vertical drop in the East and the Mackenzie Intervale Olympic Ski Jumping Complex, where you can ride to the top of the 26 story, 120 meter ski jump in a glass enclosed elevator! Other venues include the Mt. Van Hoevenberg bobsled and luge track where you can take an exhilarating ride down the only dedicated bobsled run in the US.

LAKE PLACID LODGING DEALS
SAVE UP TO 50%
IRON MAN TRIATHALON - July 25th 2010

12th Annual Celebration! Competitors from around the world will arrive in Lake Placid to compete in one of only 5 official Ironman Triathlons to be held in the continental U.S.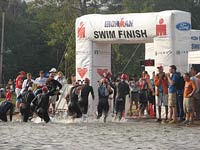 SWIM COURSE - 2.4 Miles (2 loops) The two loop swim takes place in Mirror Lake, a calm, pristine lake right in the heart of Lake Placid. It is an excellent spectator course. The water temperature is typically in the high 60s to low 70s. Wetsuits will be allowed The swim is a mass start keeping all swim bouys to your left. Each athlete will exit the water and run on the beach before entering swim entrance for second lap. The ChampionChip system will be used to time the race and to ensure everyone completes 2 laps. Swim Lap times will be available on the Internet. After the second lap, exit the water and run down Lake Placid Club Dr. , downhill to transition zone. There will be carpet on the road. The swim course will close at 9:20 am. (2hrs 20 minute time limit)

Click here for extensive Iron Man Slide Show (this is a long slide show - after page loads hit the * on your number pad)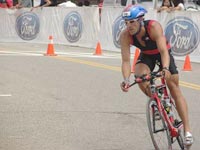 BIKE COURSE - 112 Miles (2 loops) The two loop bike course takes place on state, county, and local roads. * Exit transition down the school bus ramp, crossing School St. onto Colden Ave. * Left at the bottom of the hill on Mill Pond Dr. * Right on Sentinel Rd. (State Rte. 73) between the Downhill Grill and the old IGA. * Follow Rte. 73 toward the ski jumps. * East on Rte. 73, you will see the ski jump on your right, climb approx. 1 mile followed by rolling hills past the Mt. Van Hoevenberg Olympic complex. The long descent into Keene begins at the Cascade Mt. trailhead and passes the Cascade Lakes. Please use caution on the descent! * Turn left on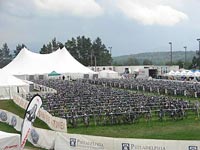 State Rte. 9N in Keene. * North on Rte. 9N to Upper Jay, * Follow Rte. 9N to Jay. * Continue through Jay on Rte. 9N toward Ausable Forks. The turnaround is at approximately 5.6 miles, just before College St. in Ausable Forks. * Return to Jay via Rte. 9N, making a right on State Rte. 86 in Jay. * Follow Rte. 86 to Wilmington and turn right onto Haselton Rd. * Head out 1.0 miles on Haselton Rd. to a turnaround point and return to Rte. 86. * Right on Rte. 86 * Turn left to stay on Rte. 86 in Wilmington towards Whiteface Mountain. * Right on Northwood Rd. * Left on Mirror Lake Dr. * Right on Parkside Dr. * Left on Main St. * Right on Cummins Rd. * Left on Lake Placid High School access drive. * Repeat loop * After second loop, enter transition from behind the high school.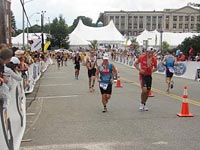 RUN COURSE - 26.2 Miles (2 loops) This spectator friendly two loop course passes by the downtown area four times! This incredible route features some spectacular tree-lined river scenery, coupled with lake side running. There are a few rolling hills, but overall athletes will find this a fast, fair run course. * Exit Transition turning right (south) on Main St. * Right on Sentinel Rd. * Sentinel Rd. turns into Cascade Rd.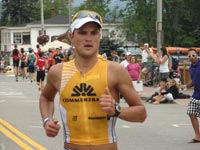 (HWY 73). This will take you out of town to the Olympic Ski jump on your right. * Left on Riverside Rd. (River Rd.) to turn around #1 and back the same route into Lake Placid. * Upon returning to Main St. at the transition area, turn right on Lake Placid Club Dr. and follow it up to turn around #2. * Back down Lake Placid Club Dr. to Main St. * Left on Main St. and back out for the second loop. * After turn around #2 on the second loop, return to Main St. and enter the Olympic Speedskating Oval. * The finish line will be located on the far side of the Olympic Speedsakating Oval, as athletes will have the added thrill of running down the finish chute on the same track that Eric Heiden Won five Olympic gold medals back in 1980. (information provided by http://www.ironmanlakeplacid.com/)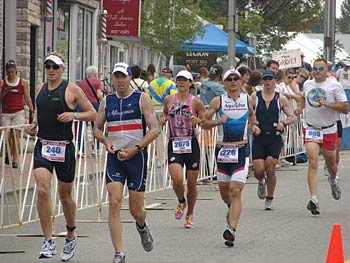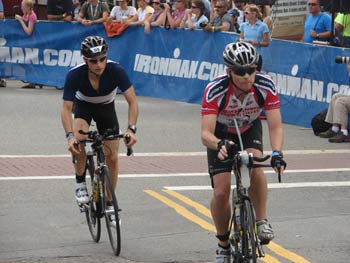 As college tuitions continue to increase at a frightening pace, discover what smart parents & students are doing across the country to fight back!
Save high tuition costs by going to school online!

Cheap Education Loans .com